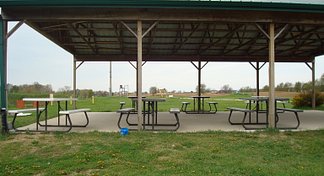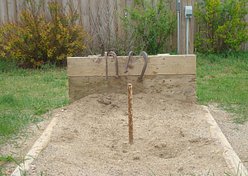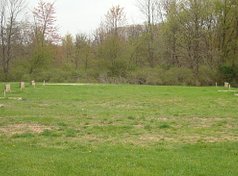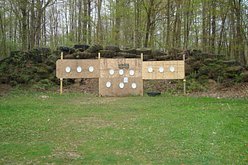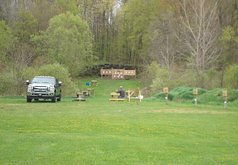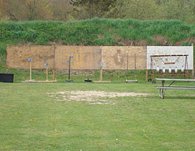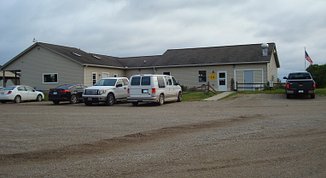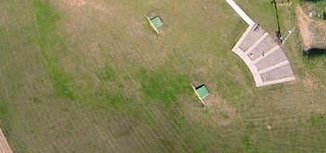 Lets start with our clubhouse. We have a sitting lounge and snacks, big screen TVS, a pool table, dart boards, and plenty of laughter and story telling to go around ( maybe some are true, maybe not) The clubhouse is divided into two sections: social lounge and large hall thats available to rent. The hall is where we hold our meetings and events.
Directly outside the clubhouse, is a large pavillion filled with picnic tables. We like to gather outside and enjoy the beautiful scenry, incredible weather, watch outdoor events, enjoy some food and good company.
Surrounding our clubhouse is an abundance of woods and wildlife. Occasionally you can catch a deer drinking from our pond or prancing through the corn field next door. The fish in the pond don't bite. There is also a beautiful river that runs through the back of the land by the ranges. Members are allowed to hunt the property and the state land surrounding us.
Come enjoy a game of horsehoes. We have a set of 5 pits lined up. You can play against a partner, solo, or in a tournament. Located diagonal from our pavillion, you can enjoy the show or simply wait your turn.
Directly in front of our pavillion is the Turkey Shoot Range. We have a set up of 5 stages set up. Come compete with us and win meat for your freezer!! Who ever hits closest to the center of bullseye wins. Bring your shotgun and create your own stories.
Now on to the fun stuff!! Let's talk about our gun ranges. First we have our Rifle Range. Located behind a ways from the horsehoe pits, the rifle range is up to 100 yards long. We have a large backboard to hang your targets and shooting benches so you don't fall down. Bring you big guns and have some fun. SORRY NO FULL AUTO ALLOWED!!!!
Next we have our Pistol Range. Located next to our Rifle range, the pistol range is marked up to 25 yards. We have a large backboard to hang your targets, bowling pins to test your skills, steel targets for your enjoyment, and tables to lay your precious metal on. Come join us for the IDPA style shoots every first Sunday of the month, starting in April. See events page for details.
Finally, our last range is where we shoot Trap. There are five stations. Come compete with your friends, new or old. Just make sure you don't talk to much and waste the birdies!!! We even have Green birdies. If you disintegrate one, you get a free beverage!!! Just don't miss, then you have to buy a drink for your line. See home page for details.